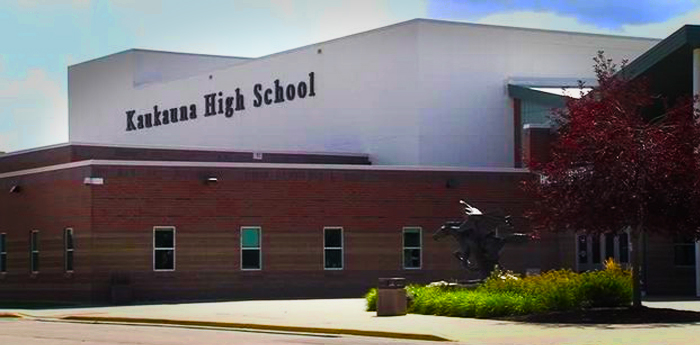 The Kaukauna High School sports' mascot, "Galloping Ghost," evolved from an interesting history of athletic events and competitors beginning with the legendary Harold "Red" Grange. Red was a three-time All American halfback who played for the University of Illinois during the early 1920's. Following his college competition, Grange played football professionally for the Chicago Bears and the New York Yankees. He was fast and elusive, difficult to catch – ghostly! Red's success on the gridiron earned him the nick name, The Galloping Ghost.
Tiger Bill's Motivating Message
In 1924 during Grange's great successes, "Tiger" Bill Smith, a recent graduate of Lawrence College in Appleton, was hired to coach Kaukauna's struggling high school football team. "Tiger Bill" was so impressed with Grange's competitive spirit and achievements that he motivated the team and especially his lighter than average (but speedy) running backs to emulate Red Grange's goals and accomplishments.
Kaukauna Backfield is Inspired
In an article in the Kaukauna Times dated 1926 November 11 the following quote is found "…and the backfield, Esler, Macrorie, Verbeten, Kemp, Hishon, Kronforst and Ludke rightly earned the name of 'Galloping Ghosts' which some writer tacked on to Bill Smith's 'Pony Backs.' "
Galloping Ghosts' Desire to Win
Smith referred to his running backs as "Galloping Ghosts" to instill that sense of competitive confidence and desire to win. It worked! His teams and Kaukauna's subsequent football teams, as well as the basketball, baseball, track and boxing teams, provided Kaukauna High School and the city with a wealth of "Galloping Ghost" memorabilia.
Phantom Horse & Rider
The phantom horse and rider virtually galloped into KHS tradition about 1940 when a student cloaked himself and his mount in bed sheets and thundered onto the football field to present the opening game ball to the referees.